Head of Influencer Talent, Kensington Grey Agency
CanadianSME Small Business Magazine interviewed Shannae Ingleton Smith. She believes in setting a goal and does not stop until she achieves it. Shannae is an extraordinarily talented and goal-oriented woman in business. Her spirit, energy and the drive she brings to her work have pushed her organization to the next level. She started Kensington Grey with her husband as she understood how Black creatives were being treated in the industry, and hence, she wanted to be part of the solution. She was aware that Black creatives were consistently underpaid, taken advantage of and underutilized. So, she knew that she could mitigate that harm through careful research and calculated negotiations by starting an agency of her own. Read on to learn more about how she thought of creating a change amongst the Black business owners.
---
What inspired you to start Kensington Grey Inc.? And what are you hoping to accomplish through the work that you do?
I started Kensington Grey with my husband because I saw how Black creatives were being treated in the industry and wanted to be part of the solution. It wasn't just the lack of representation. It was also the fact that we were consistently being underpaid, taken advantage of and underutilized. I knew that I could mitigate that harm through careful research and calculated negotiations by starting an agency. It's a lot easier to get paid what you're worth when the people advocating for you understand and honour your value.

---
Can you share your thoughts on the lack of Black women in marketing? What do you think are some of the systemic barriers that Black women face when trying to enter the marketing field?
A lack of representation in the industry keeps many Black women from considering marketing as a tangible career goal. But I also believe that when Black women become marketing professionals, they often leave the industry within a few years because of the disheartening practices, microaggressions, and lack of career development. They become disillusioned. However, the social media landscape is changing that. We're seeing more digital agencies run by Black women, largely because of the dissatisfaction so many of us faced in the industry.
---
SUBSCRIBE NOW
Our content acknowledges the strength of the ardent entrepreneurs and their lifelong experiences of the marketplace that help them build successful business empires. Our belief in productive learning and providing inclusive content is why we have plans for a wide spectrum of activities that incorporate everything from reading to prolific networking.
Shannae Ingleton Smith – Building an Inclusive Community for the Black Creatives
Click To Tweet
How can we help to remove these systemic barriers and support Black women in marketing?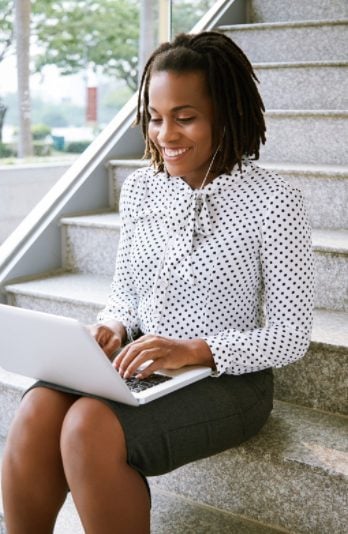 The most important step is recognizing that the industry needs us. Including Black women isn't a favour, a trend, or a product of Black History Month. We are essential to the industry, and companies need to recognize that. My advice to brands is to be authentic. The ads and campaigns you're running will have a better ROI if they are reflective of the world we inhabit. People want to see themselves in influencers and marketing plans. If your campaign only includes women with blonde hair and blue eyes who are a size 2, that won't resonate with most people. However, at the same time, your audience can tell when you are incorporating diversity for the sake of it. There's been numerous campaigns and ads over the last few years that have tried to make a push for inclusion but have come across as tone-deaf. Those agencies likely hired diverse models but did not have a team that reflected the demographic they were trying to include.

The solution is us. We know how to tell our stories best. Companies need Black women if they want to sell products to a Black audience. It's as simple as that. My advice to brands is to start acknowledging our value and contribution, and then adjust your brand culture so we feel welcomed enough to stay and thrive in our roles.
---
Do you have any personal stories or experiences that illustrate the challenges faced by Black women in marketing?
When we talk about the lack of representation faced by many Black women in marketing, the conversation is often too focused on making the industry more accessible to those in school and starting their careers. That conversation is important, but there's more to it. Black women in all professions, but especially in marketing, have often spoken up about the impacts of gatekeeping. Companies will aspire to diversify their entry-level positions, but that rarely changes who is in the corner office. The biggest challenge facing Black women is the limitations placed on our success in the workplace. That can look like being passed over for promotions we've worked for and deserve or employers not investing in our growth.
It's easy for companies to say they prioritize diversity and inclusion regarding their hiring practices. However, the real question is, do they also prioritize diversity when it comes to whom they promote and whose ideas they financially support?

---
What advice would you give to young Black girls who are interested in a career in marketing?
Don't allow other people to place limits on you. They don't know you as well as you know you. If you have an idea that excites you, align your words with your actions, work at it consistently, and the right people will find you. Success is inevitable when you refuse to give up.