Roi Ross, VP of Marketing, TELUS Business
With more than 15 years of strategy consulting and industry leadership across telecommunications and technology, Roi's global experience spans North American and Asian markets.
Known for building and leading highly-engaged entrepreneurial teams that consistently drive market growth, Roi is also passionate about how small business owners use innovative technology solutions to differentiate and scale their business.
Most recently, he was the executive sponsor of the TELUS Pitch, Canada's largest small business contest, which is a powerful customer engagement platform designed to celebrate small business owners while investing and engaging in their future growth. Roi lives in Toronto, ON with his wife and two sons.
---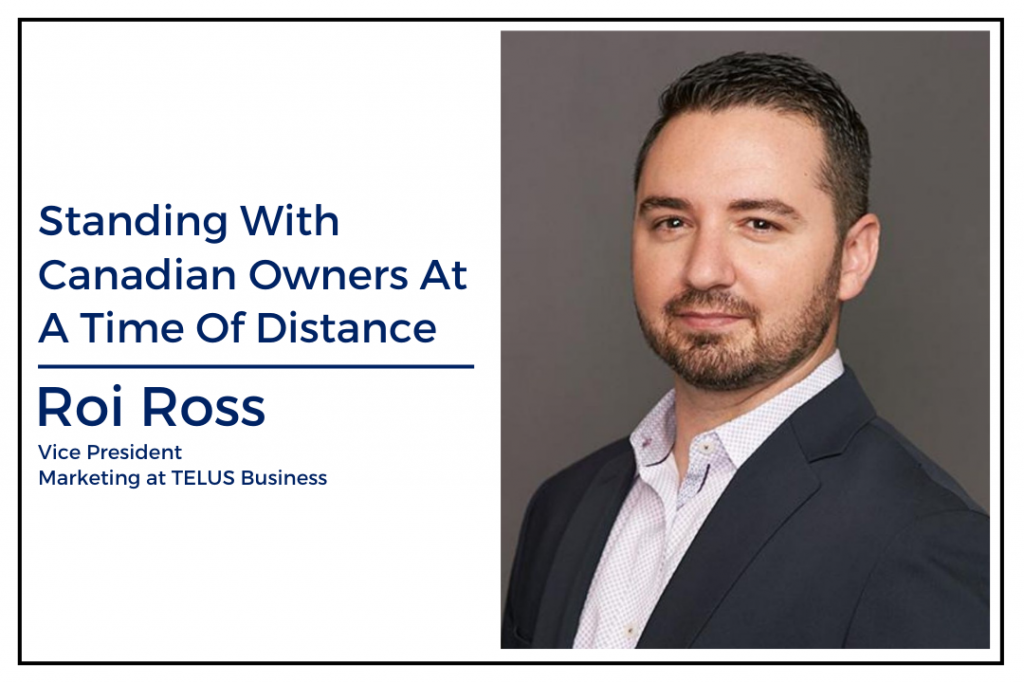 COVID-19 has had a huge impact on businesses, small and big. What's been the biggest impact it's had on Telus and what initiatives has Telus taken to overcome these challenges?
One of the biggest challenges facing businesses big and small is how to continue running your business and supporting customers with the majority of workforces now working remotely from home.
Prior to the COVID-19 pandemic, TELUS had already empowered approximately 75% of employees to spend some portion of time working remotely, including in-office workers, mobile employees and customer facing agents through the TELUS Work Styles program. The original intent of Work Styles was to create value for our team members by supporting a flexible work environment; supporting the consolidation and reduction of floor space; and reducing our environmental footprint through decreased greenhouse gas emissions.
In response to the public health crisis, TELUS has been able to use these investments in Work Styles to deal with the COVID-19 health crisis with 95% of all TELUS Business team members able to work fully from home, including 99% of domestic call centre team members. Incredibly we were able to complete this shift within five business days while maintaining our focus on serving our customers and maintaining our network performance at a critical time.
Many large corporations have taken this opportunity to set out a clear message about how they are reacting to the worldwide pandemic and the different ways they are helping those impacted by COVID-19. What approach has Telus taken in regard to this?
As a technology company, connecting people is what we do. In response to the COVID-19 pandemic, TELUS has committed $150 million to support Canadians with the services and resources they need. The two areas I'm most proud of are the support we were able to offer small businesses and our efforts to support virtual healthcare.
Supporting our small business customers:

We are supporting our small business customers facing financial challenges as a result of the pandemic by offering flexible payment options. We didn't want anyone to worry about not being able to pay their bill on time, and none of our customers will lose services if they are unable to pay.
Early on in the COVID-19 crisis as international borders were closing and global travel was shutting down; many Canadian's found themselves trapped overseas. In this situation, their TELUS smartphone became an essential lifeline to communicate with loved ones and a tool to coordinate their return to Canada. To assist, TELUS made the decision to waive international roaming fees for these customers. The peace of mind we were able to provide our customers during this very stressful time was a wonderful show of support

Supporting Canadian healthcare:

To help keep Canadians safe and reduce exposure for themselves and others, we have expanded our virtual healthcare capabilities through Babylon by TELUS Health, currently available for free to anyone in B.C., Alberta, and Ontario. This app gives users access to information via our sophisticated AI-powered Symptom Checker, and the ability to book appointments, virtually see a locally-licensed physician and get prescriptions as well as referrals for diagnostic tests and specialist appointments.
TELUS also offers the bilingual Akira virtual care app, which is available to more than 500,000 Canadians and their families through their employers. TELUS Health also announced it is enabling 26,000 Canadian family doctors to conduct virtual visits with their patients by seamlessly integrating this functionality into its electronic medical records (EMRs) offering. This app enables users to virtually connect with a health practitioner 24/7, 365 days a year and can help further alleviate strain on our clinics and hospitals.
---
In your expert opinion, what is the biggest challenge that small business owners are facing at the moment? What initiatives has Telus taken to help small business owners during the COVID-19?
The COVID-19 pandemic has proven to be as much of a financial crisis as it is a health one, significantly impacting Canadian small businesses and threatening the livelihoods of owners and their families. Businesses have been forced to rally and pivot their businesses, relying on remote technologies and online connections to survive against all odds.
TELUS was inspired to help and launched #StandWithOwners, a new initiative aimed at supporting Canadian small businesses and their owners through direct revenue, marketing, and expert advice during a time when they need it most.

TELUS wanted to encourage Canadians to join in and support owners by shining a spotlight on their favourite independent small business. Canadians were asked to create a post on Twitter or Instagram highlighting a small business, using the hashtag #StandWithOwners and tagging @TELUSBusiness. In return, nominators received a $25 digital gift card to use at the selected business on behalf of TELUS. Most notably, in its first four days in market, the campaign generated 20,000 social posts helping us to distribute our $500,000 committed to supporting small business owners.
TELUS is investing marketing funds to promote owners across social media, digital advertising and a new digital hub on telus.com/standwithowners to showcase their business and connect them with new customers and share their inspiring stories.
TELUS is engaging industry experts and past TELUS Pitch judges like Arlene Dickinson for their support. In the coming weeks, TELUS will launch a series of interactive online discussions where small business owners can ask questions, share advice and discuss best practices on how to manage business uncertainty in a candid environment.
On a final note, what advice can you give to entrepreneurs that can be beneficial for them during this worldwide pandemic?
We have been inspired by the outpouring of support for Canadian small business owners through the #StandWithOwners initiative. It's clear that Canadians are very proud of their local small businesses and the owners that run them and are eager to support them in any way possible. My advice to entrepreneurs is look for ways to stay connected to your community – even if it's remotely. We have seen many owners that have used a variety of solutions to do this including social media, contactless payments, and video conferencing to continue interacting with their community during a time of distance.
While it can be an incredibly scary and difficult time for many, it has also been a time of strength, resilience and ingenuity. If you're looking for examples of inspiration, we encourage you to follow along with our social channels on Twitter, Instagram and Facebook. In the coming weeks, we'll be launching a series of interactive online discussions specifically aimed at helping owners manage their business during the pandemic.