Here's how you can #embraceequity and level the SME playing field
During the pandemic, a whopping ⅓ of women left their jobs to take care of their families and many women-run businesses in Canada struggled—or shut their doors completely. And while many have since rejoined the workforce, the long-term impact of this migration has been huge: the World Economic Forum estimates it will take an extra 35 years for gender parity to be achieved.
That's why #embraceequity, this year's theme for International Women's Day, is so meaningful: because we all have a role to play in advancing women in business.
Empowering women to fully participate in the workforce isn't just about "doing the right thing." It's also about ensuring the long-term success of your company. By advancing equity and giving women more opportunities to participate in the economy as both SME employees and business owners, Canada could boost its GDP by up to $150 billion.
So how can you #embraceequity in your own operations – and help women thrive in your business, your supply chain, and your overall network? No matter how big or small your SME may be, there are a few things you can do to support women's success:
---
1. Focus on flexibility
Women take on the brunt of child and elder care, accounting for almost ⅔ of caregivers in Canada. Employers who accommodate that imbalance with flexibility policies like flex or core working hours, remote work, paternity leave, and a culture of support help women balance work and family commitments. Flexibility benefits everyone: female employees stress less and can do more, and business owners see lower turnover and greater productivity.
What you can do right now: Ask your employees: "what is one thing we can do to help you find balance?" Then, find a way to do it. Even small changes can make a big difference.
---
2. Don't just be a mentor: be an active advocate
The quality of mentoring that women receive is very different from what's typically offered to men. Women are more likely to get advice, while men typically have more mentors who advocate for them and actively open the door to opportunities.
What you can do right now: Choose a woman who works in your company or a fellow small or medium-sized business owner and reach out to offer helpful input, useful connections and potential opportunities.
---
3. Build a company culture that encourages being an ally
Women who are supported by their peers do better, and a big part of this effort is creating a culture that embraces allyship. Do everything you can to be an ally yourself, modelling the mindset for your employees and your network.
"I try to be an ally by being vulnerable myself, and by creating a safe space for other women to be themselves," says Peggy Duffaut, Director of Human Resources, Tenet. "I show up authentically to empower other women to do the same, and do what others have done for me: challenging me to stand for what I believe in, and to always be true to who I am."
What you can do right now: Share this article with your staff and your network—along with one specific way you #embraceequity by supporting the women you work with.
---
4. Amplify women's voices
Women often get the short end of the stick when it comes to contributing to discussions at work and having their ideas heard. They're interrupted more often than men and get less credit for their ideas when they do get a chance to express themselves. Not only is not being heard demoralizing for individuals, but it also robs companies of access to everyone's best ideas.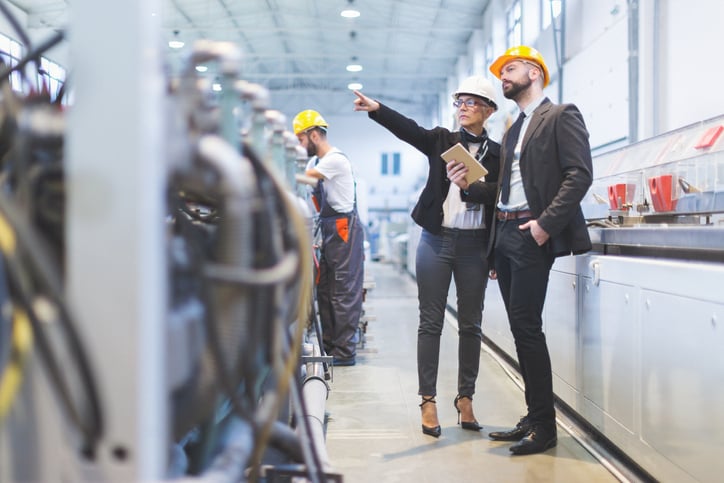 What you can do right now: The next time a woman is interrupted in a meeting, make a point of saying you want to hear what she has to say. If you see a woman is having trouble breaking into the discussion, ask for her perspective.
---
5. Celebrate women's successes
Women often don't get the credit or recognition they deserve. And that's in no small part because they tend to minimize their accomplishments—for women, self-promotion is often penalized as self-aggrandizement. It doesn't take much effort to recognize a woman's contribution, and it can go a long way to building confidence and job satisfaction.
What you can do right now. Make shoutouts part of your company culture and encourage everyone to publicly recognize a job well done. And don't stop with your own employees: recognize women in business for their accomplishments too, whether it's at an industry event or an accolade on LinkedIn.
---
6. Encourage stretch opportunities
Whether it's taking on an unfamiliar task or raising a hand for a promotion, women are less likely to take chances at work than men—and more likely to underestimate their own abilities. Having the support of a leader or a respected colleague empowers them to learn and grow professionally and contribute in more meaningful ways.
What you can do right now: Make a conscious effort to boost the confidence of your female employees and industry colleagues. If an opportunity comes up, actively encourage them to go after it. A little "I know you can do this" encouragement can mean more than you realize.
---
7. Be generous—and specific—with feedback
Both men and women are a lot more worried about hurting a woman's feelings with feedback than they are a man's. When women get input, it's often non-specific and hard to act on. "Your use of last year's statistics made the presentation much more compelling," is a lot more helpful than "nice job." Without understanding what they're doing wrong (and right!) it's impossible for anyone to grow.
What you can do right now: Don't be afraid of upsetting someone with your thoughts about their performance. Be kind, but if there's something that can be improved, don't skimp on the specifics. You can set the stage as a business owner by inviting employees to provide you with feedback, and accept it gracefully as an opportunity to improve.
---
8. Go beyond your own business and support Canadian women entrepreneurs
Running a business is hard, but it's extra challenging if you're a woman. Female small and medium-sized business owners have been disproportionately impacted by the pandemic. They have less access to funding than their male counterparts. They struggle to be taken seriously, especially if their business is in a traditionally male-dominated field. And they don't always have the support network they need to really thrive. It's no wonder only 17% of Canadian SMEs are owned by women.
"For me, equity means equal treatment, respect and agency," says Wendy Kennish, General Counsel and Corporate Secretary, Tenet. "SMEs are often underfunded and overburdened, and embracing equity is about helping them attract the resources they need to become all they can become. The Cubeler Business Hub offers connections to possible sources of funding, and in the future, it will also be a networking hub—a place to share hopes, dreams and frustrations with others who understand exactly where you're coming from."
What you can do right now: Invite women entrepreneurs to your networking and support groups. Introduce them to people who can help them succeed. Buy their products and services and promote them to your circle.
"When women succeed, we all succeed," says Johnson Joseph, CEO, Cubeler and President and CEO of its parent organization, Tenet. "We recognize how crucial the support of peers, colleagues and leaders is for Canadian women entrepreneurs—and really, all women in business. That's why we founded the Cubeler Business Hub—to give Canadian business owners access to the financing, network building and insights they need to succeed."
---
Looking for more insights into helping women in business succeed?
Cubeler helps SMEs unlock the full potential of their business with the Cubeler Business Hub™, a no-cost platform where small and medium-sized businesses in Canada can access the financing, advertising, networking and business intelligence tools they require to compete with larger companies. Find out more at cubeler.com