Her efforts are part of a first-of-its-kind initiative to close the innovation gap and leverage untapped potential of Indigenous businesses, researchers in Canada
Candice Loring is on a mission.
The 36-year-old member of the Gitwangak band from the Gitxsan nation is out to change the narrative of Indigenous research in Canada.
"Historically, research was done 'on' Indigenous people, not 'for' or 'with' Indigenous people," explained Loring, Director of Business Development and Indigenous Community Engagement for Mitacs — a national innovation organization that fosters growth by solving business challenges with research solutions from academic institutions — and the first Indigenous person to be hired by the organization.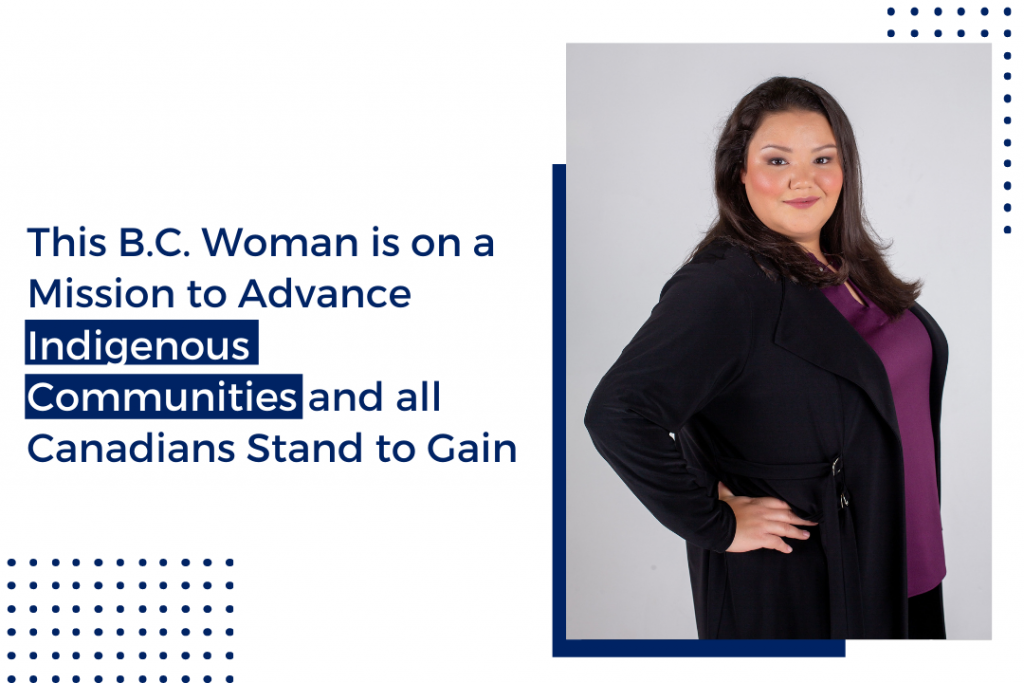 Now, thanks to a first-of-its-kind initiative launched by Mitacs, Indigenous-owned businesses and organizations are being connected with the right academic talent to help them achieve their innovation goals.
"I'm working for an organization that's not only hearing my voice, but is my voice, helping to make real change within Indigenous research and academia," said Loring, who joined Mitacs in August 2019. Comparing herself to a matchmaker, she is tasked with connecting highly talented university and college research interns to Indigenous businesses and organizations requiring their specific problem-solving skill sets.
According to Statistics Canada, the Indigenous population is the fastest-growing in the country, increasing by 42.5 per cent between 2006 and 2016. Given the same opportunities as non-Indigenous people, Loring said it is estimated that Indigenous communities have the potential to add between $27.7 and $100 billion to Canada's economy and give GDP a 0.3 per cent boost.
She explained the new research initiative by Mitacs is bridging the gap by removing the financial and social barriers that have prevented Indigenous groups from accessing Mitacs programs, which traditionally provide half of the funding for hired interns.
For the Indigenous program, partner organizations need to invest only one-quarter of the project's cost, meaning they pay $3,750 of the typical $15,000 cost for a four-month internship. To qualify, either the organization must be 50 per cent owned by an individual who self-identifies as Indigenous, or the selected intern must self-identify as Indigenous.
"This is the most aggressive call we've launched to date," said Loring, noting that there are no caps limiting the number of internships that can qualify per business. "The societal impact will go far beyond research because an entrepreneur's success with their business really lifts up an entire community," she added.
Indigenous projects underway
Through a partnership with EcoTrust Canada, for example, Mitacs Indigenous interns are currently working on hydroponic innovations to boost local food production and security, programs to help small businesses pivot amid COVID-19, self-sustaining restorative farming solutions, and art programs that encourage youth to share their voices. Other Indigenous interns are advancing novel breast and ovarian cancer therapies, developing a sustainable housing model for teen parents, creating a coordinated Indigenous emergency plan for response to COVID-19 and future emergencies, and revitalizing Indigenous languages.
Tarun Katapally, a patient-oriented research leader and professor at the University of Regina's Johnson Shoyama Graduate School of Public Policy, is currently leading a Mitacs-funded research team working to build a digital infrastructure that will monitor, mitigate and better manage the spread of COVID-19 and other societal issues in Indigenous and northern communities. The team's initial prototype — an app called CO-Away — is being piloted in Île-à-la-Crosse, a mostly Métis community of about 1,500 in northern Saskatchewan.
"We're empowering citizens to engage in a real-time virtual care tool, and in turn, their data is being used by their own community decision-makers to take steps to mitigate risk," Katapally explained.
The app allows users to report COVID-19 symptoms and risk factors, as well as other issues they may be facing such as food insecurity or mental health concerns. Any alerts or messages they receive, advising them on preventive actions to take, come from local leaders and authorities and are based on their individual risk assessment.
"Even though the idea is an extension of my Smart Platform, we're working closely with a citizen advisory council that is providing feedback and steering our development efforts," Katapally explained. "The idea is to enable Indigenous self-governance and we're doing that by working alongside Indigenous leaders."
For Mitacs, "our team is committed to empowering Indigenous innovation in Canada," said John Hepburn, CEO and Scientific Director of Mitacs. "Mitacs consults with Indigenous organizations to identify and solve their research challenges, and to leverage available funding; we also make the research connections and enable real job experience that Indigenous students rely on to advance their careers," he added.
Reflecting on her personal educational and professional journey, Loring said having the opportunity to lead the Mitacs Indigenous initiative is "profound." After dropping out of school in Grade 10 due to socioeconomic conditions and addiction struggles within her immediate family, Loring enrolled in a university in January 2012 as a single mother of two boys, simultaneously completing high school and working towards a Business Management degree she obtained four years later.
"To have a seat at the table in an organization that truly believes in advancing the Indigenous portfolio because it's the right thing to do is one of the most profound moments of my life," Loring said. "I've found an allyship here in an organization that knows the importance of making these matches and ensuring Indigenous innovation moves forward in Canada. In the broader picture, all Canadians stand to benefit."
Quick Facts:
· Mitacs is a not-for-profit organization that fosters growth and innovation in Canada by solving business challenges with research solutions from academic institutions.
· Mitacs is funded by the Government of Canada along with the Government of Alberta, the Government of British Columbia, Research Manitoba, the Government of New Brunswick, the Government of Newfoundland and Labrador, the Government of Nova Scotia, the Government of Ontario, Innovation PEI, the Government of Quebec, the Government of Saskatchewan and the Government of Yukon.