Natalie Yeadon – Co-Owner/Managing Director – Impetus Digital
---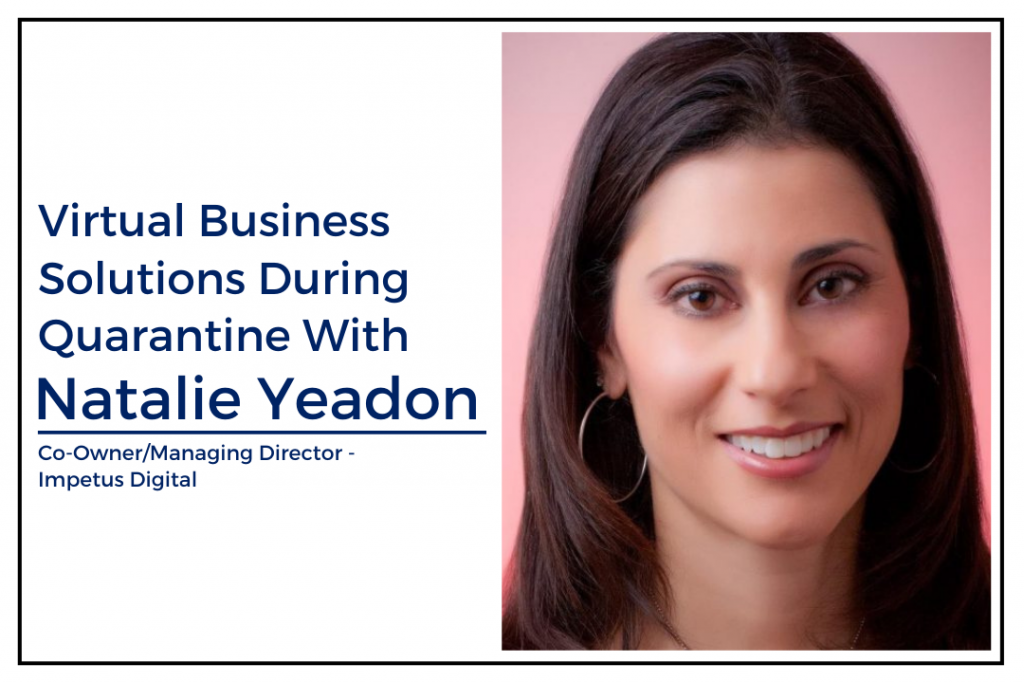 What was the inspiration behind the founding of Impetus Digital? What are you hoping to accomplish through the company?
Before starting Impetus Digital, I worked in a myriad of positions in the pharmaceutical industry in both Canada and the US. During my 18-year career in the industry, I noticed that despite my best efforts to keep connected to customers, there always seemed to be a disconnect in our dialogue flow. I would find myself having some great conversations in advisory board meetings and then never finding the time or opportunity to follow up with my advisors after the fact. I noticed that this was a huge gap and that there was a great opportunity to help solve this. This was the eureka moment that sparked the flame to launch Impetus.
At Impetus Digital, our aim is to build the bridge to allow for ongoing conversations between life science companies and their customers. We have facilitated this through the development of multiple best-in-class asynchronous and synchronous virtual collaboration tools through our Impetus InSite Platform®, all of which are not only safe and highly compliant and secure, but also simple and fun to use.
---
Impetus Digital has been known to revolutionize the way that companies conduct events. What are some of the strategies and methods that Impetus Digital refers to when it comes to being innovative in the industry?
Impetus has always been a very forward-thinking company. There has definitely been some resistance from the pharmaceutical industry in the past when it comes to moving away from traditional "one-off" in-person advisory board meetings to shorter but frequent online meetings, but we have remained strong advocates for virtual collaboration.
We have conducted several analyses based on our own data from in-person, synchronous virtual, and asynchronous meetings (where participants can contribute on their own time over a 2–3-week period), and the data favoring virtual meetings are quite impressive. For example, compared to in-person meetings, we have found that asynchronous touchpoints result in over 30% higher participant engagement rates and in an increase in the quality and quantity of insights of more than 40%. Of course, the cost is a huge factor as well, so being able to offer cost
savings of about 75% often helps to sway clients who may be reluctant to go virtual.
To stay innovative, we practice what we preach and actually use many of the brainstorming techniques that we recommend that our clients use for their own advisory boards. As an example, we offer a virtual "Six Thinking Hats" tool designed for in-depth problem-solving by making participants think about an issue from six different angles. We used this approach during a recent team meeting to brainstorm solutions to a problem we were facing and it was extremely effective.
Our online platform and tools are also very versatile and we have a lot of experience in quickly adapting them for new use cases. To give an example, after using our asynchronous annotation tool to review a journal article during an online advisory board touchpoint, we had an advisor comment that our platform would be perfect for virtual journal clubs. Based on this feedback, we were able to instantly create a process for using the platform for journal clubs and now offer this as a standardized product.
Finally, it is important to always look for ways that you can improve on your current offerings and know when to let go of something if it is not working. We are not afraid of discussing controversial or sensitive topics and we always encourage our clients to have those "courageous conversations" with their key opinion leaders (KOLs) as well.
---
Many small businesses are suffering currently due to world lockdown. How would you say the current world pandemic situation with COVID-19 has affected the business?
Unlike many other businesses that rely on having people visit them in person, the enforcement of physical distancing has actually resulted in a huge surge in our business. We are busier than ever and are in the middle of hiring several new team members to help us keep up with demand.
Even before COVID-19, we were encouraging our clients to replace or supplement their in-person meetings with regular online touchpoints in order to create sustained and authentic relationships with their customers and to minimize their environmental footprint. The current situation has really highlighted the importance of safe and secure online collaboration, and everyone is becoming more open to trying different types of virtual meetings.
These are very uncertain times. Many of our clients had already planned and booked in-person meetings for the spring and summer, so we are happy to be able to help them adapt to the "new normal" and seamlessly engage with their colleagues and customers through our online platform.
---
What are some of the virtual solutions that Impetus Digital offers to its customers to help them during these challenging times?
Impetus Digital offers a range of virtual solutions and services that are designed to supplement or replace in-person meetings with internal and external stakeholders such as customer advisory boards, steering committee meetings, medical education and training, and internal brand planning sessions. We offer two main types of meeting technologies: synchronous virtual meetings and asynchronous touchpoints.
The former includes innovative features such as real-time polling, whiteboarding, screen-sharing, and breakout sessions. However, our large portfolio of asynchronous tools is what really sets us apart. Through our online platform, we offer virtual discussion forums, anonymous survey tools, annotation and selection tools, debates, case studies, interactive widgets, "gamestorming" activities, and more. Our platform is safe, secure, and GDPR- and HIPAA-compliant, which is an absolute must in the pharmaceutical industry.
We have over 11 years of experience in "virtualizing" in-person meetings, so we are able to help our clients transfer their meetings online very quickly and efficiently. Our services also include strategic and digital support throughout our clients' projects.
COVID-19 is having a huge effect on how healthcare professionals see and treat their patients, so it is extra important for life science companies to interact with their KOLs frequently right now, and we are able to help them do this in a safe and interactive manner.
---
On a final note, Impetus Digital is a 100% remote working company. What would you say is the biggest challenge and the biggest advantage of being a remote company?
In terms of challenges, working remotely makes it a bit more difficult to know what everyone is working on at the moment, especially as the team is expanding. This is not a huge issue, and the team meets regularly to make sure that we are all aligned and that there is transparency.
I would say that the advantages largely outweigh any challenges. Having the choice to work remotely is highly appreciated by our team members. It offers a lot of flexibility; you don't have to waste time commuting to and from the office every day, especially if the weather is bad. You can spend your lunch break walking your dog or doing yoga. If you're sick, you can move your schedule around or work in bed. We trust our employees to get the work done, even if they don't sit at their desk for 8 hours straight between 9-5. Not being limited by location also means that we can get the best talents on our team. While most of our team members are living and working in the GTA, we have employees in other parts of Canada as well.
With the current situation, we didn't have to change our day-to-day business, because we were already working remotely and are used to communicating and collaborating virtually. We truly do practice what we preach, and with the right tools, virtual collaboration can be just as effective as face-to-face.