If you're anything like me, you're probably tired of the pandemic. Tired of all the uncertainty, not knowing when- or even if – things will feel normal again. There is comfort in predictability, but it's important we don't only seek what's comfortable in our constantly changing environment.
I'm eager to share advice on how local business owners can boldly move forward through the pandemic and beyond.
And there is no one better to teach us than Canada's craft brewers, a group that managed to quickly adapt during the pandemic in order to keep cash flowing while the taps were not.
Here is what I believe any business owner can learn from the nation's craft brewers.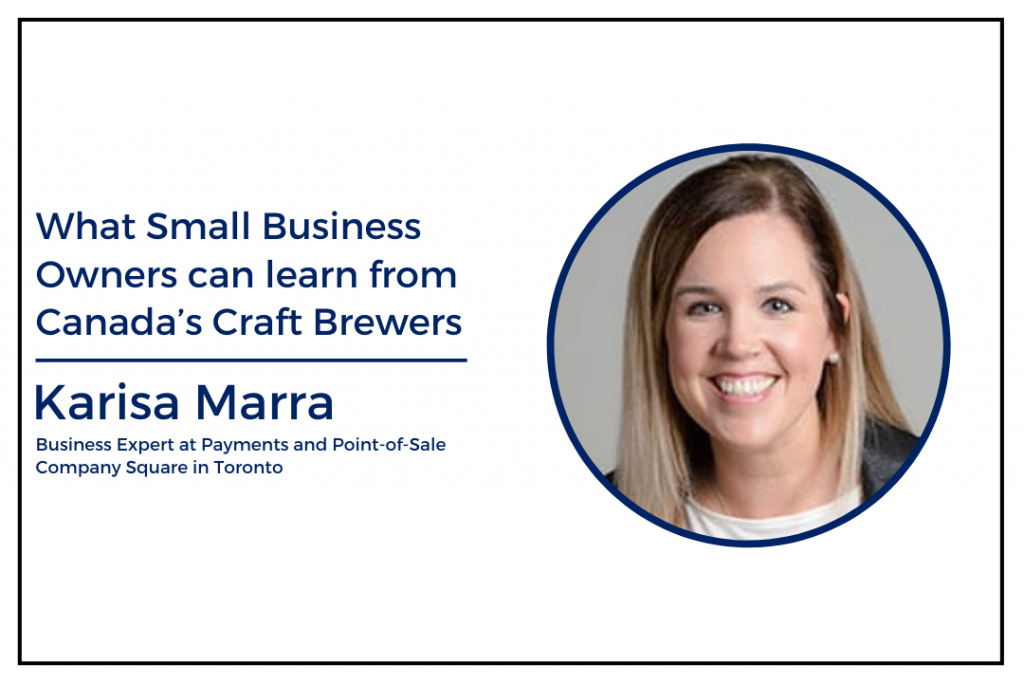 Diversify
Besides the intoxicatingly delicious flavour and staggering variety, another factor in the success of craft brewers has been their ability to create diverse sales channels. While some business owners stick to set ways of doing business, craft brewers are more likely to take advantage of many different means of distribution. For consumers, brewers have taprooms and bottle shops, along with branded "swag" that beer enthusiasts proudly wear or serve beer in. Many offer their beer wholesale to speciality retailers and have it served by restaurants and bars. A number of taprooms also moonlight as venues for special events, tours and educational sessions.
This clear precedent served the industry well during the pandemic; those already leveraging diverse income streams were more insulated against the business interruption.
For those who were sticking to only one or two sales channels, this existing roadmap offered a strong lifeline. For instance, those that previously sold brews solely from the taproom were able to pivot quickly to offer bottle sales, while others turned to make hand sanitizer as demand surged.
One may argue that diversifying is not necessarily that simple for other industries. In most cases, creativity is required, but it can be done with a little ingenuity and a leap of faith.
All business owners have learned from COVID-19, circumstances can change in the blink of an eye. Diversification not only brings greater prosperity but helps to insulate one's business from unexpected challenges.
Proactive > Reactive
In addition to nurturing diversification, COVID accelerated the move online for many breweries who had distant plans to sell online, which begs the question: Why did they wait so long in the first place?
The answer is fairly intuitive; if it ain't broke, don't fix it. Whether owners are too busy to plan ahead or are simply content with the status quo, it's human nature to procrastinate.
Brewers, in general, tend to have a greater appetite for experimentation, many were able to quickly set up online bottle shops with Square and curbside pickup and local delivery for customers' housebound happy hours for the first time. And they've been busy, thanks in part to Canadian appetites and in part to their ability to adapt.
Many are selling the same volume of beer as before, but imagine their revenues if they had been selling online in addition to – rather than in place of – other channels.
A lesson for any type of business is that putting off your business plans is akin to leaving money on the table. When a business is doing well, it's easy to get comfortable and put off plans for expansion, but if 2020 has taught us one thing, it's that we can never anticipate what tomorrow will bring. Act on your plans now, instead of waiting until there is no other choice.
Community is Currency
As much as Canadians love their beer, when it comes to craft brewers, it's about serving much more than a stellar brew. Successful breweries understand their customers and know how to connect with the community in the ways they oftentimes didn't know they needed.
A brewery is a place to socialize with friends, a place for education on stouts, hops, and IBUs. A brewery also serves its community in many ways beyond refreshment.
The last few months it's been clear community doesn't exist solely within the walls of a taproom. It spills over to the broader community of people who share a passion for a common pastime.
Take, for example, Collective Arts Brewing, in Hamilton, ON, which is a beacon of not only the brewing community but the arts community as well. Collective Arts' cans are all designed by artists who are then featured on the website, offering them tremendous exposure they wouldn't otherwise enjoy.
Brunswick Bierworks in Toronto literally puts its money where its mouth is: As businesses saw incomes drop through the pandemic, the brewery has donated – and continues to donate – thousands of dollars to BIPOC charities and COVID relief funds.88
It's this strong sense of community that has helped craft brewers to continue to employ staff and stay connected to their customers throughout the pandemic. This is a lesson that can translate across many industries.
Maintaining that sense of community will help a business maintain a strong customer base, and a great business flows from that.
The last few months have been tough, but it's worth reflecting on these aspects of how craft brewers operate to more boldly move through the pandemic and beyond to whatever is next.
So grab a craft beer, take a break, and then back to work more inspired. The future is bright.
——————————————————————————————————————————
Karisa Marra is a business expert at payments and point-of-sale company Square in Toronto. She works with businesses of all types and sizes across the country. In her role, Karisa partners with craft brewers to contractors to hair salon owners to help them overcome their operational challenges.