Dino Infanti
Partner, National Leader – Enterprise Tax
KPMG in Canada
With over 15 years of experience, and KPMG's Partner, National Leader KPMG Enterprise ™ Tax, Dino Infanti is well known for his insights and guidance on tax technical work in estate and succession planning, corporate restructuring, tax mitigation strategies and divestitures. Dino specializes in owner-managed enterprises primarily in the construction, real estate development, and holdings sectors, in addition to the entertainment sector.
---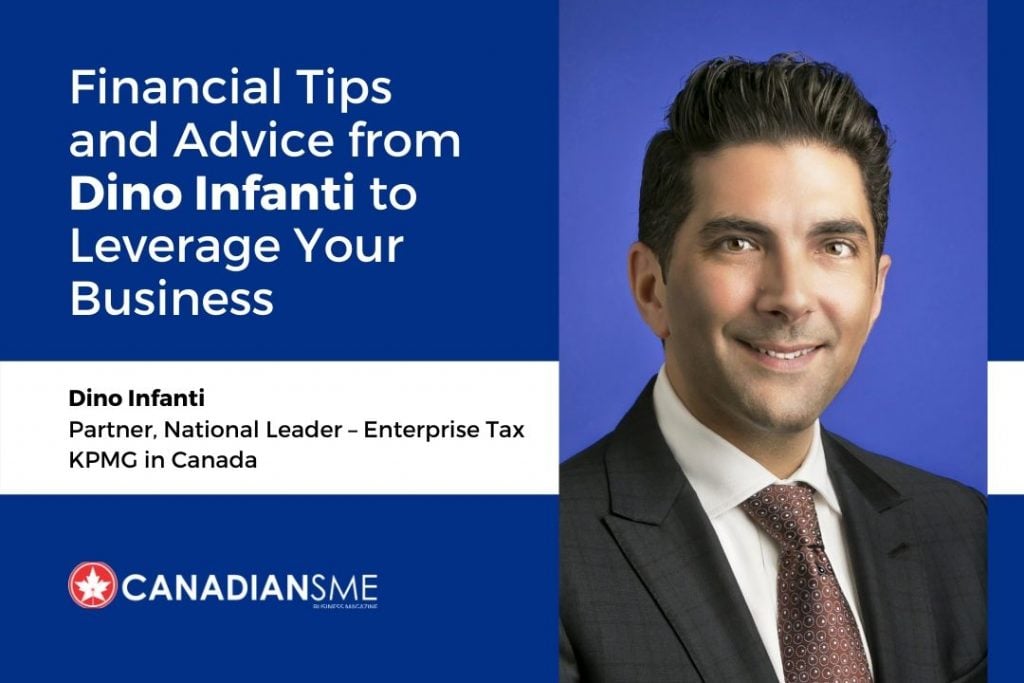 As National Leader in the Enterprise Tax practice at KPMG, what would you say has been the biggest impact that COVID-19 has had on Canadian businesses?
The single greatest issue that Canadian businesses are facing is employment. I can't stress that enough – employment, employment, employment. With the unemployment rate reaching 13 per cent in April, it's clear that millions of Canadians have been affected. Businesses have had to make very difficult decisions in terms of managing their workforce and dealing with the human aspect of the pandemic. This is in addition to dealing with the significant financial impact on their business.
---
What advice can you give to Canadian SMEs with regards to applying for the Canada Emergency Wage Subsidy (CEWS)?
The wage subsidy features broad eligibility, making it helpful and accessible to thousands of businesses in Canada. It's complex in certain respects, however. For example, determining qualifying revenue and in those cases where there are complicated business structures.
The first step is to determine eligibility and then look at the drop in the revenue test. This was originally applicable for the months of March, April and May and now the government has extended the wage subsidy program to August.
I would recommend starting with the eligible entity's normal accounting reporting of arm's length revenue from ordinary activities in Canada for the relevant month in 2020, and comparing it to the same month in 2019 or the average of January and February 2020. If an eligible entity has multiple entities, then I would suggest looking at other methods of computing revenue that are available for purposes of eligibility.
Once eligibility has been determined, then calculate eligible remuneration for individuals employed in Canada for the qualifying period. This can be tricky since in many cases the entity's payroll periods do not coincide with the qualifying periods.
To assist with this, KPMG Lighthouse has developed an employment remuneration calculator that can extract your payroll data to assist with the computation of eligible remuneration for each qualifying period. This value-added tool will provide your business with the documentation to support your CEWS claim when the Canada Revenue Agency reviews it, as well as for purposes of the 2020 T4 reporting.
---
In terms of eligibility for the wage subsidy, what options do businesses have to show a decline in revenue?
Determining qualifying revenue for purposes of the CEWS is quite complex. Depending on the structure of the business, there are various options for computing qualifying revenue. From a macro perspective, a business may record qualifying revenue in one of two ways. One is using accrual-based accounting, which is the method generally used by businesses. The other option is to use a cash basis. These two methods may deliver very different results for different businesses and sectors.
For example, in the real estate and technology sectors, businesses may wish to consider computing qualifying revenue on a cash basis. The key is to start with accrual-based accounting reporting and, if the business doesn't meet the revenue drop test, at that point re-do the analysis using cash basis accounting. I should point out that redoing the analysis on a cash basis will require additional work if the business normally accounts under the accrual basis. That said, it could make the difference between qualifying for the wage subsidy or not.
---
In your opinion, do you believe that the federal government has provided enough resources to help businesses that have been and will continue to be impacted by the COVID-19 pandemic?
The federal government has provided an unprecedented amount of stimulus to help Canadian businesses navigate through this pandemic. The wage subsidy is a generous program that may enable businesses to keep and even rehire employees who may have been laid off.
By extending the program to August, the government is continuing to encourage businesses to apply for the wage subsidy as a way to help reduce unemployment and support Canada's economic recovery. In addition, the Canada Emergency Business Account (CEBA) has been beneficial to thousands of small and medium-sized businesses needing loans to meet cash flow challenges.
---
Many entrepreneurs are struggling to find solutions that can help them during this global pandemic. What advice can you give to SME owners that can be beneficial for them during this challenging time?
First, cash is key. It's important to be laser-focused on cash. Understand your current business cost structure and do financial modeling of what the business will look like post-COVID.
Some practical actions may be to assess liquidity management, look at fixed costs, review overhead structure, forecast cash flow and conduct scenario modeling. Further, look at identifying business and economic risks, and conduct a stakeholder analysis to make sure there is consistent communication with them.
The other point is to be fully aware of government programs and subsidies, some of which are evolving and expanding eligibility criteria to enable more businesses to qualify. For example, the Canada Emergency Commercial Rent Assistance program offers forgivable loans to commercial property owners to reduce the rent owed by qualifying tenants. The CEBA is a program that many SMEs have put in place with their financial institutions. This program provides loans of up to $40,000 to help businesses meet their working capital obligations. When the borrower has repaid the amount received by the deadline, up to 25 per cent of the loan could be forgiven.
Finally, take advantage of various tax deferrals that are available to business owners regarding income taxes that are owing, as well as indirect taxes.
Ultimately, the goal is to understand various inputs. We're finding that a number of businesses have been forced to reevaluate their business and cost structure. Perhaps there's unnecessary spending and areas where they can be far more efficient. It's about addressing these issues and forecasting a sensitivity model, which is focused on how best to position the business to see through to recovery.
At KPMG Enterprise, we assist our clients with these requirements. This includes modelling and sensitivity analysis related to structuring and aligning the business to move forward.
---
It's no surprise that many businesses across the world will face bankruptcy due to COVID-19. How do you perceive the Canadian economy will be impacted and what can Canadian businesses and consumers do to reduce the COVID impact on the economy?
Time will tell in terms of what the true economic impact will be. Our economic recovery will be highly dependent on an improvement in public confidence overall. We are transitioning from reacting to the pandemic and embarking on the journey toward recovery and the reopening of society and our economy. As more businesses reopen, their leaders are thinking about how they can best protect employees and customers and help rebuild confidence amid this new reality.
To help with this process, KPMG has developed a Return to the Workplace guide which outlines the key considerations, stages and factors necessary to establish a robust action plan for your business.
For the foreseeable future, businesses will need to be nimble and be prepared to react swiftly. I recommend including your lenders as part of your team and staying in regular contact with them. There should be consistent communication with them about the state of the business and a sense of working together. Ensure they are apprised of what's going on so there are no surprises. Your financial institution is very much part of the equation.
No doubt there are many unknowns, but with the right strategy and support, businesses can make it through the current economic situation and keep moving forward.